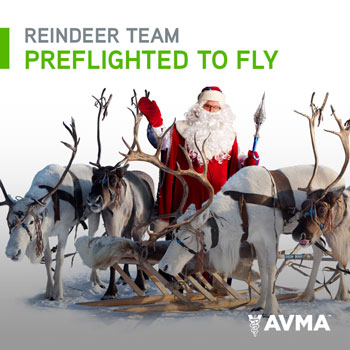 Santa, like all responsible pet owners, understands the importance of regular veterinary care! Especially if you travel with your pets. Prior to taking off Christmas night Santa made sure all his reindeer had complete health checks and where healthy for travel.
The North Pole's official veterinarian is ringing his sleigh bells for volunteers to join the Emergency Landing and Veterinary Expert System (E.L.V.E.S.), a group whose job is to oversee the well-being of Santa's nine holiday helpers.
"I'm looking for veterinarians from around the country to help me in this highly important effort," said John de Jong, DVM, Santa's personal animal caregiver and president of the American Veterinary Medical Association (AVMA).
"In the event the reindeer need to make an unscheduled Christmas Eve stop for sled repairs, refueling, or veterinary care, veterinarians in the E.L.V.E.S. program will be on call to provide needed assistance and ensure a safe and on-time delivery of Santa's precious cargo."
So what about your pets? Are they traveling to grandma's house? Flying with you to a dear friends? or a long car trip? No matter how you travel with your pet there are some simple things you can do to assure a safe trip.
The ASPCA has this helpful info on Travel Safety Tips so if traveling by air or car check out their list to be sure you are prepared.