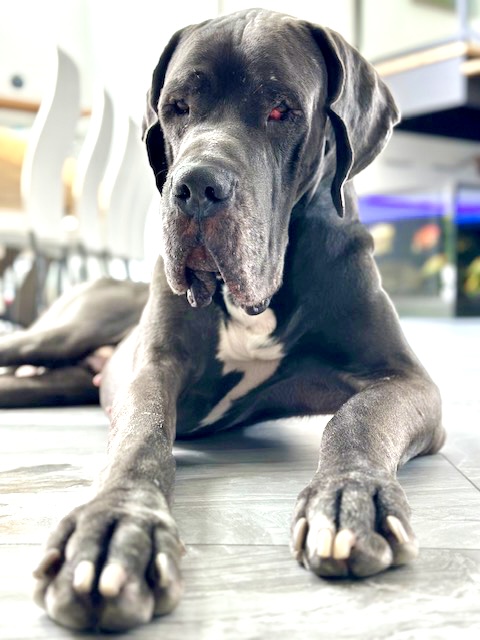 Introducing Moby's Fund.
Our smaller shelters do amazing things but often have very limited resources for medical care for the dogs in their care. Moby found himself painfully injured when he landed at this caring shelter who reached out to GDRNT. This shelter does not have veterinary staff ..in fact there are only two employees… nor do they have funding to pay for outside veterinary care.
GDRNT was able to work with the shelter to get Moby to a local veterinarian for treatment. GDRNT was able to pay for this treatment so he could get care ASAP.
Like many rescues right now finding foster space to accommodate all the shelter requests is a huge challenge so we are constantly trying to find new ways to help discarded danes in need. Even if it means they do not come into our program as fosters. Moby got lucky and once his stray hold was up we had a GDRNT foster spot for him .
Since Moby two other danes have benefitted from this out of the box program. NTXGiving day allows us to have these funds on hand so we CAN help dogs like Moby.
In another case we were able to get a dane medical treatment, HW treated and vaccines… and we will sponsor his neuter. We were able to work with the shelter to find experienced dane adopters.
So far Moby's Fund has made huge difference to these pups! While we do this for the pups .. we are glad to be able to help the dedicated and caring shelter staff by providing this resource.
Donate before 11:59pm on September 21st via this link and the first $4,000 will be doubled!
Each donation also makes us eligible for additional funding !
A huge thank you to our anonymous (REPEAT) Matching fund Donor. This person remains anonymous but is a huge, long time supporter of GDRNT and we are so GREATful for this PAWSome Support.